AmeraGlass Company would like to take this moment to introduce itself. We are a commercial and Contract glazing company established in October of 1991.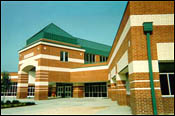 Our goal is to provide the best glass products and most efficient service in the states of Texas, Louisiana and Mississippi.
AmeraGlass Company's main focus of work is in the commercial glass work and window replacements, for projects such as schools, hospitals, prisons, hotels and some private office buildings.
We use Timberline Insurance Services to provide our insurance coverage. They are the second largest agency in the state of Texas and the 32nd largest in the United States.
Our insurance carrier and bonding company are both rated category A - (Excellent) by A.M. Best.